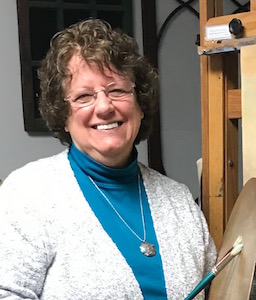 MARY REILLY
, is a full time professional artist who has been painting in Oils since 1974. Originally from New Jersey, in 1986 she moved to Virginia with her husband and two daughters. In 1991 Mary opened
Creative Brush Studio
, which is both her art studio and display gallery. In 1996 she moved to Historic Downtown Manassas where she remained until 2018 when she moved to her current Manassas location at 8951 Center Street.
Mary enjoys painting a wide variety of subjects, but she is best known for her life-like portrayals of people and animals. Portraits by Mary are in many public and private collections including such prestigious locations as the United States Court of Veterans Appeals in Washington D.C., the University of Virginia in Charlottesville VA, and Washington Hospital Center, Washington D.C.
Magazines that have featured Mary are
Northern Virginia, The Piedmont Virginian, Prince William Living
and the
Piedmont Business Journal
where she was highlighted as one of the "25 Women to Watch" in the feature article on
Women in Business.
The sense of mood and emotion that Mary brings into her art sets her apart from other artists. Her style of
soft-focused realism
encompasses a range suitable for the realism of her traditional portraiture to the looseness of her more impressionistic paintings.
Capturing the essence of the subject being painted, and transcending the ordinary, a painting by Mary Reilly becomes a work of art to be treasured and passed down from one generation to the next.
Mary was invited to be a professional member of the International Guild of Realism.